TORAYCA T1100 UD CARBON
High tensile and high modulus carbon fiber with patented Nanoalloy Technology for extreme performances and allows for the weight drop.
ITALIAN BB

+10% LATERAL STIFFNESS = MORE POWER.

Compared to the Dogma F10 the lateral stiffness at the bottom bracket is increase by 10%.

RACE GEOMETRY

Design is not just about making the bikes look good, but how to combine geometrical, aerodynamic and engineering needs. The skill of the designer is in knowing how to work all of this in, while creating an exciting object.

Drag savings of 8 Watts at 40km/h, riding 1km equals a 1sec gain, that is victory

FLATBACK PROFILE
Truncated aerofoil for aerodynamic advantage, compliant to 3:1 UCI rule. Excellent aero performance and low lateral wind resistance.
TiCR
The state-of-the-art internal cable routing across the whole bike industry. The system allows both to install mechanical or electro-mechanical group sets and completely hides cables (disc version) within bar/stem or integrated handlebar for improved aero performances and protection.
ONDA FORK
A distinctive Pinarello Technology since 2000. The shape of the fork delivers precise turning abilities, stability and reduction of longitudinal and lateral shocks.
| CE | CC | L | A [°] | B [°] | P | T | D | R | G | REACH | STACK |
| --- | --- | --- | --- | --- | --- | --- | --- | --- | --- | --- | --- |
| 415 | 420* | 498 | 74.4 | 69.15 | 406 | 94 | 67 | 43 | 373 | 348.9 | 498.3 |
| 435 | 440 | 503 | 74.4 | 70 | 406 | 99 | 67 | 43 | 373 | 354.3 | 506 |
| 455 | 465 | 515 | 74.4 | 70.5 | 406 | 104 | 72 | 43 | 373 | 364.8 | 517.6 |
| 455 | 470 | 525 | 74 | 71.4 | 406 | 114 | 72 | 43 | 373 | 370.5 | 530.2 |
| 480 | 500 | 525 | 74 | 71.4 | 406 | 109 | 72 | 43 | 373 | 372.1 | 525.4 |
| 495 | 515 | 535 | 73.7 | 72 | 406 | 114 | 72 | 43 | 373 | 378 | 532.3 |
| 510 | 530 | 545 | 73.7 | 72.5 | 406 | 123 | 72 | 43 | 373 | 383.3 | 542.6 |
| 520 | 540 | 550 | 73.4 | 72.8 | 406 | 131 | 72 | 43 | 373 | 385 | 551.2 |
| 530 | 550 | 557 | 73.4 | 72.8 | 408 | 142 | 72 | 43 | 373 | 388.8 | 561.6 |
| 540 | 560 | 565 | 73 | 73.2 | 408 | 149.5 | 72 | 43 | 373 | 390.7 | 570.2 |
| 555 | 575 | 575 | 73 | 73.7 | 408 | 163 | 72 | 43 | 373 | 396.7 | 584.8 |
| 575 | 595 | 587 | 72.4 | 73.4 | 408 | 199 | 67 | 43 | 373 | 393.3 | 613.3 |
| 615 | 620* | 620 | 72 | 73.4 | 411 | 239 | 67 | 43 | 373 | 410.1 | 651.7 |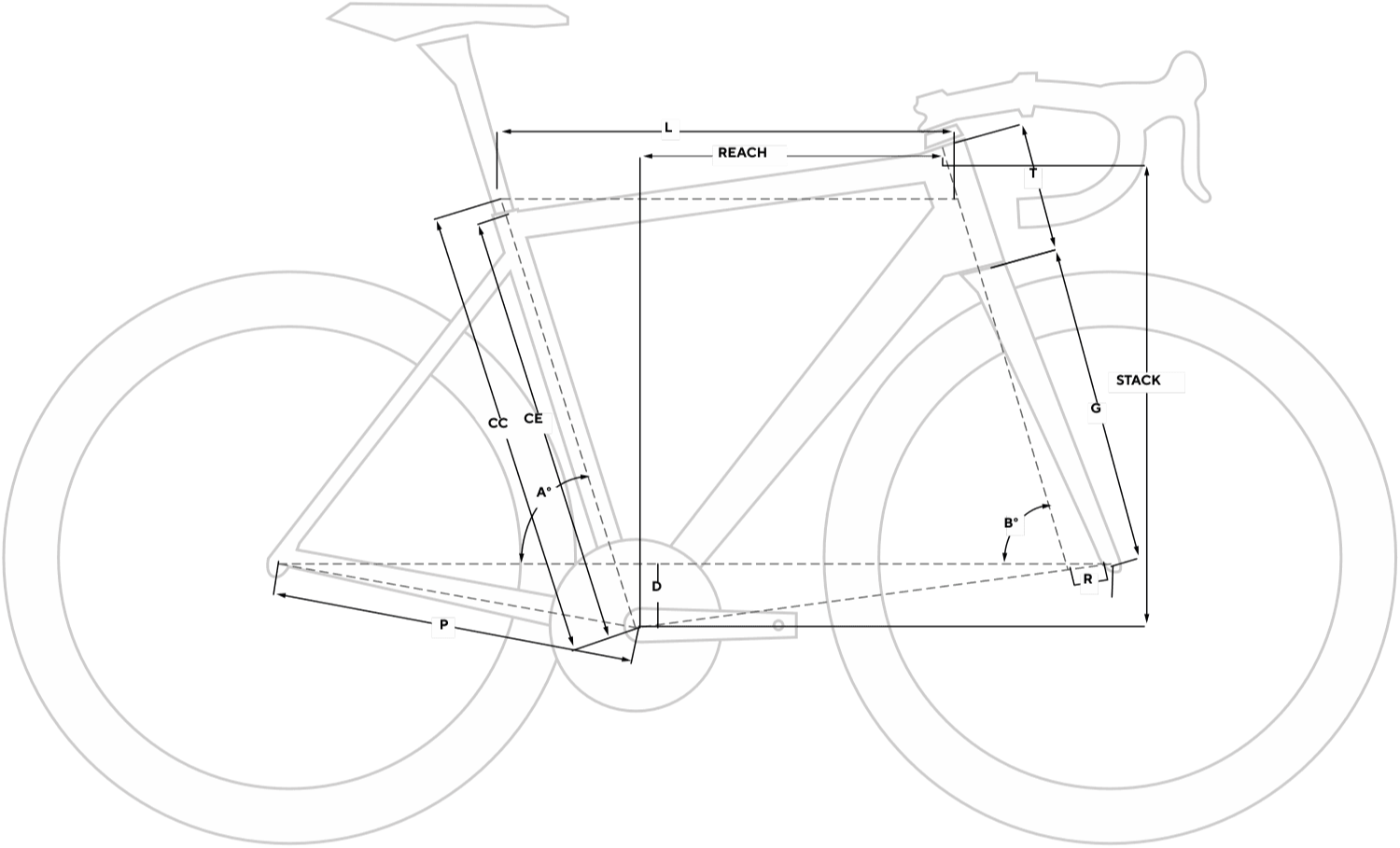 CE: SEAT TUBE CENTER - END, CC: SEAT TUBE CENTER - CENTER, L: TOP TUBE CENTER - CENTER, A[°]: SEAT TUBE ANGLE, B[°]: HEADTUBE ANGLE, P: CHAINSTAY, T: HEADTUBE, D: BB DROP, R: FORK RAKE , G: FORK HEIGHT, REACH, STACK