CARBONT900 3K
The right balance between reactivity, dampening capabilities and lightness for competition.
ASYMMETRIC FRAMEPINARELLO F
For first Pinarello understood that, while the thrust applied to both pedals is the same, the pull on the chain applies to the right side only. For this reason, all frames are optimized to compensate these unbalanced forces.
ONDAFORK
A distinctive Pinarello Technology since 2000. The shape of the fork delivers precise turning abilities, stability and reduction of longitudinal and lateral shocks.
COMPETITIONGEOMETRY
30 grand tours have been won on Pinarello bikes. 70 years of victories and continuous improvements have been distilled into what we consider the best race geometry in the industry.
| CE | CC | L | A [°] | B [°] | P | T | D | R | G | REACH | STACK |
| --- | --- | --- | --- | --- | --- | --- | --- | --- | --- | --- | --- |
| 425 | 430 | 500 | 74.4 | 69.5 | 406 | 97 | 67 | 43 | 373 | 351.3 | 502.5 |
| 450 | 465 | 515 | 74.4 | 70.5 | 406 | 104 | 72 | 43 | 373 | 365.2 | 517.7 |
| 465 | 500 | 525 | 74 | 71.4 | 408 | 109 | 72 | 43 | 373 | 372.1 | 525.5 |
| 485 | 515 | 535 | 73.7 | 72 | 408 | 114 | 72 | 43 | 373 | 378.1 | 532.3 |
| 500 | 530 | 545 | 73.7 | 72.5 | 408 | 123 | 72 | 43 | 373 | 385.6 | 542.6 |
| 515 | 545 | 555 | 73.4 | 72.8 | 410 | 138 | 72 | 43 | 373 | 388.3 | 557.9 |
| 525 | 560 | 565 | 73 | 73.2 | 410 | 149.5 | 72 | 43 | 373 | 390.8 | 570.3 |
| 560 | 575 | 578 | 73 | 73.7 | 410 | 178 | 72 | 43 | 373 | 395.4 | 599.3 |
| 580 | 595 | 600 | 72.4 | 73.4 | 410 | 220 | 67 | 43 | 373 | 400.3 | 633.5 |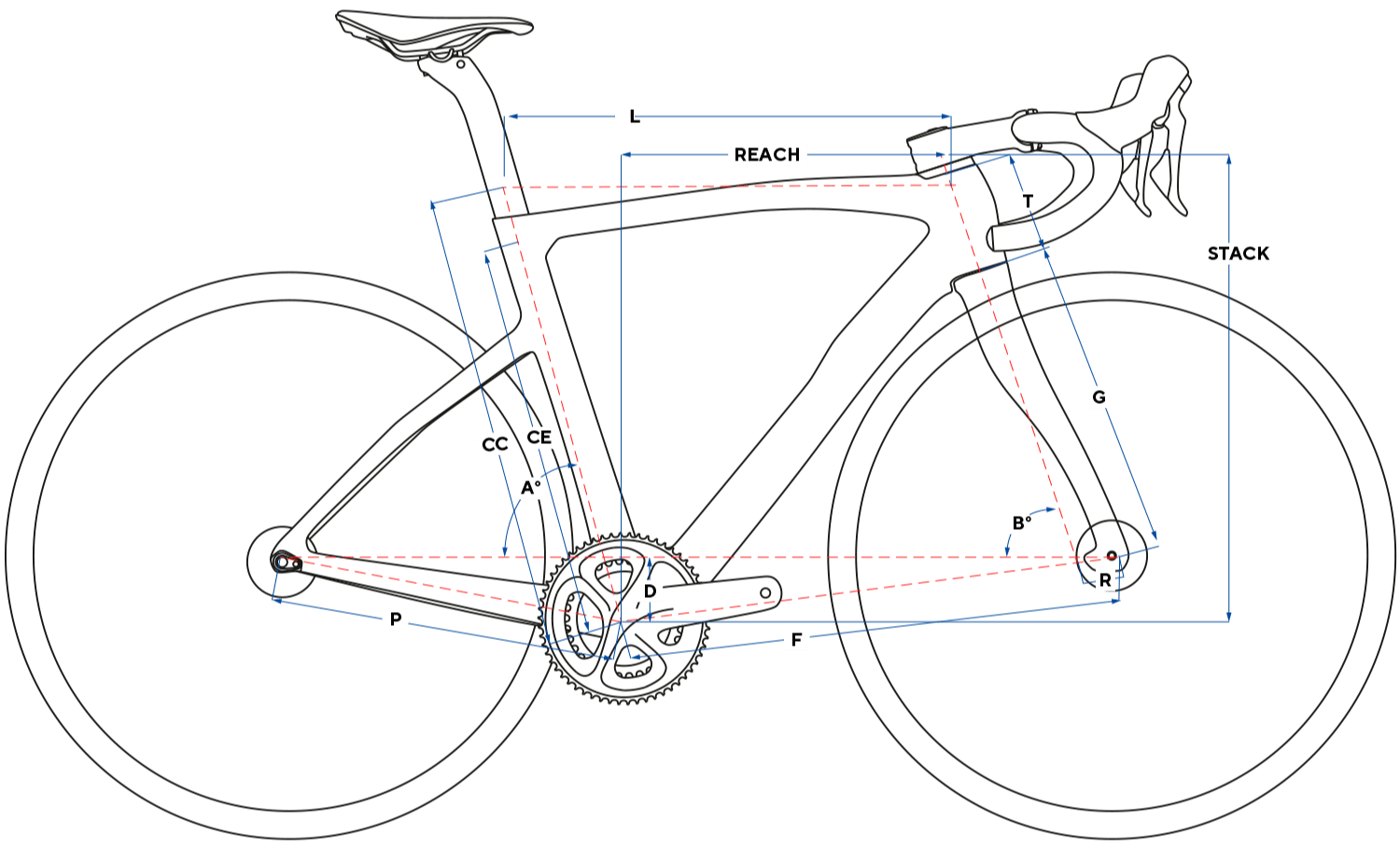 CE: SEAT TUBE CENTER - END, CC: SEAT TUBE CENTER - CENTER, L: TOP TUBE CENTER - CENTER, A[°]: SEAT TUBE ANGLE, B[°]: HEADTUBE ANGLE, P: CHAINSTAY, T: HEADTUBE, D: BB DROP, R: FORK RAKE , G: FORK HEIGHT, REACH, STACK